About the journal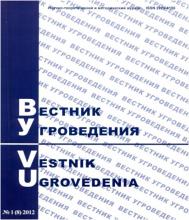 The scientific-theoretical and methodological journal "Bulletin of Ugric Studies" was established 
in 2011 and its periodicity is four times a year.
The journal publishes articles of problematic and scientific-practical character, with results of 
completed research having got novelty and interesting for a wide circle of readers.
Founder and publisher: Budgetary Institution of Khanty-Mansiysk Autonomous Okrug-Yugra 
"Ob-Ugriс institute of applied researches and development", Khanty-Mansiysk.
The edition is registered in the Federal Service for Supervision in the Sphere of Telecom, 
Information Technologies and Mass Communications (Registration Certificate ПИ No ФС 77-
45532) and in the ISSN International Centre (ISSN 2220-4156).
Subscription index in the catalogue "Russian Post" is 99812.
Information about the journal issues is presented in full text format in the SCIENTIFIC 
ELECTRONIC LIBRARY in order to create Russian Science Citation Index (RSCI) and has an 
impact factor of the Russian Science Citation Index (IF RSCI).
Title of the journal in English: Bulletin of Ugric studies.
Transliteration of Russian version of the journal title: Vestnik Ugrovedenia.